Dame Natura Rm1
Tamara Marrington Rm2
Maggie Johnson Window
---
Opening 6 Dec 2019

Exhibition continues until 12 Dec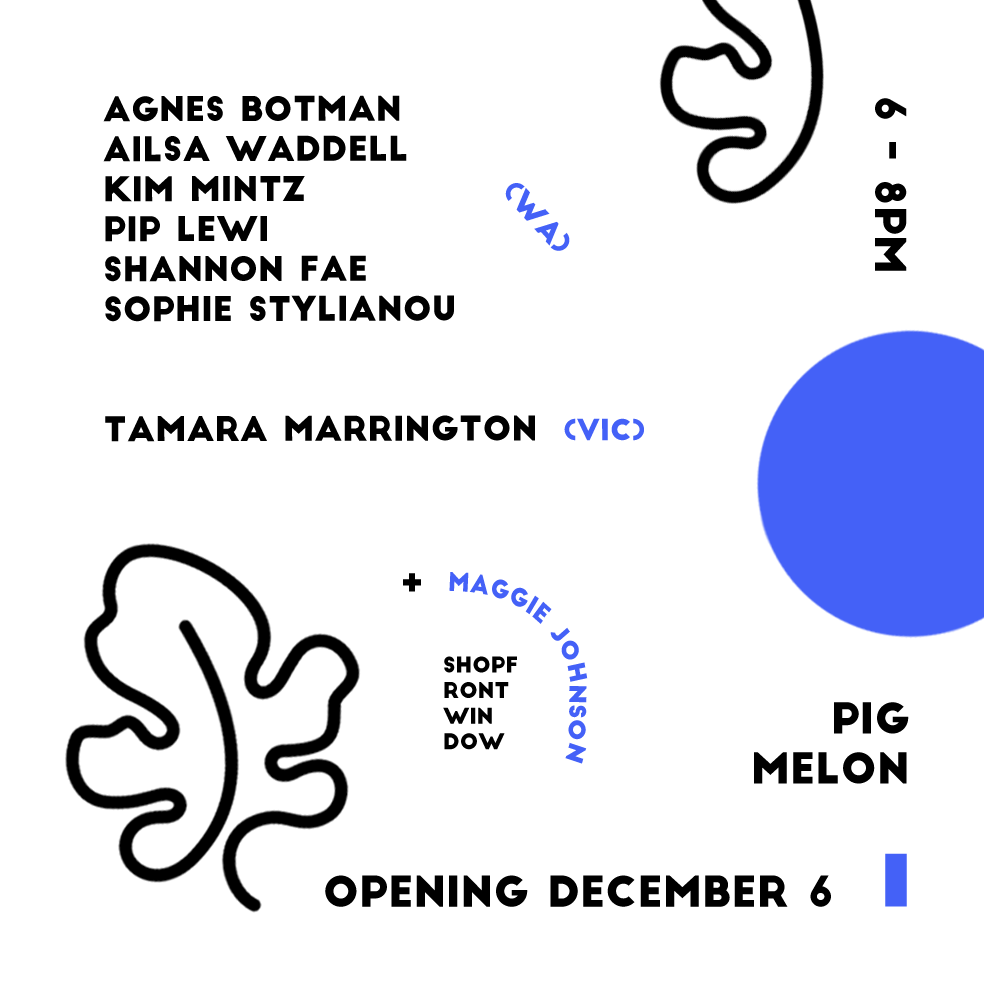 Room 1: Dame Natura, a group show by Agnes Botman, Ailsa Waddell, Kim Mintz,

A group exhibition by six non-men artists exploring modern relationships with nature and the tenuous construct of feminine identity. Through a mutli-disciplinary approach; including site specific installation, sculpture, painting and photography, they choose to embrace or subvert given cultural narratives.

Agnes Botman is an emerging artist currently working in Perth. She graduated from Curtin University with a Bachelor of Fine Arts in 2017. Now she is learning to live slower every day. Her art practice grows like a moss, finding dark and fertile moments in her life and growing something out of them.

Ailsa Waddell has a process-based practise, working on Whadjuk Noongar Boodja. Their work is a continuing discussion on intimacy and softness between familiar objects and the way it relates to the process of hammering. Hammering is a tool that leaves holes, gaps and space. Scratching the surface of what we see these objects to be within their everyday contexts, softness begins to show.

Kimberley Mints (Kim Mintz) is an emerging artist from Perth, WA. She is interested in social media platforms and how images have become a common vernacular, a contemporary language through which ideas of the self are represented, and the self is imaged. Through figurative oil paintings in which faces or facial features appear as multiples, and to have been distorted or fragmented digitally, she aims to reflect the experience of constant reconstructing and re-authoring of the self through the posting of images online. In addition, she is interested in the potential for painting, a tangible palpable medium, to reflect ideas surrounding online intangible digital phenomena.

Pip Lewi is an emerging artist currently living and working on Whadjuk Noongar Boodja (Perth, Western Australia). Their practice is primarily concerned with capturing the essence of everyday middle class Australiana within the mediums of painting and illustration. Pip had their first solo exhibition at Cool Change Contemporary in 2019 and has previously shown work at various local galleries and institutions including Paper Mountain (2018), Moore and Moore (2018), The Art Gallery of Western Australia/ AGWA (2015 and 2018), Smart Casual (2017) and City Arts Space (2017). In 2018, they won the City of Fremantle's 25under25 Highly Commended Award and was selected for The Clyde and Co Art Awards. Pip completed their first residency at Another Project Space in 2018.

Shannon Fae is a multidisciplinary visual artist, living and creating on Whadjuk Noongar Boodjar/Perth, Western Australia. Working predominantly with clay, film and illustration, Shannon's practice investigates the dynamics between industrial and organically made structures, reflecting on the idealized point of view of futurism and our present ecological reality.

Sophie Stylianou is an emerging multidisciplinary artist residing in the suburbs of Perth/Whadjuk land, Western Australia. Drawn to the mediums of photography and writing since adolescence to process life cycles and reconnect with ever-changing surroundings, narratives of environmental and human entwinement feature prominently in her art. Sensitive, textural and prone to decay, her work often uses paper and prints, cutting, sewing, accompanying written pieces (and occasionally other experimental mediums) to reflect on the notions of instinct and spirituality in the modern world. Largely self-taught in film photography, writing and sewing, Stylianou has released several self-published projects in print over the last few years, now shifting into bringing her intimate, personal works to local galleries with upcoming exhibitions in Perth in the next year (TBA).

----------------------------------------------------------------

Room 2: Tamara Marrington - ORB, FLOWER, EGG, TREE, CAT, PIGEON

I'm painting grass.

In a flash the strip of orbs reminds me of the yearly winter overgrowth of wild oats and nasturtiums in the backyard of my parent's house, pre-subdivision. child-me used to sludge through the long grasses, hems of her pants soaked with dew, disappointed by the limits of the garden. One corner was so overrun by vines that you couldn't see the fence at all - I liked this part best because as a concept, it was limitless. The event of the property being cut in half now presents itself as a soft delineation between periods of life (child, less-child).

What would she think of me? In writing this I realise that it's her I'm making these paintings for. I take a break from studio hell and try to imagine her: small and wispy, hair down to her torso, brow slightly furrowed. She'd look down on me for smoking, probably pretend to cough.

Today I'm frustrated – the paint has played a trick on me where one egg has life and the other doesn't. Sometimes a painting is clear and other times it stares back at you like the wall that it is. Frustration dissipates though: I step through a portal where I am a child again, drawing. Through some slip of the hand she makes a wrong mark on the page but is filled with elation when she realises that this is the mark that makes the whole image true. I sense the same invigoration in me now and that comforts me. Tonight, I love painting and painting loves me.

Tamara Marrington is an artist living and working in Melbourne. She is grateful to have been given the opportunity to present work in her beloved home-city and hopes that something in your experience and her experience may meet (with love) in the space of her work.

Recent exhibitions include twin show Chin Pony; Chamber Presents (2019) and solo show Riding Through The Feeling; Melbourne University House (2018). Selected group exhibitions include Great Western; Melbourne's Living Museum of the West, her Graduate Exhibition; VCA, Majlis Travelling Scholarship Finalists; Margaret Lawrence Gallery (2018) and Pretty; VCA Art Space (2017). She was awarded the Stuart Black Memorial Drawing Scholarship in 2017 and was shortlisted for the Majlis Travelling Scholarship in 2018. She graduated from the Victorian College of the Arts in 2018 with a Bachelor of Fine Arts (Drawing and Printmaking).

----------------------------------------------------------------

Shop Front Window: Maggie Johnson - Morph

'Morph' symbolises the body-mind connection experienced by us all and how negative thoughts about self can directly affect how we see our bodies. It is only human nature to strive to become better and to grow, so we go through change after change, hoping that the next thing about ourselves that we alter will finally bring us true happiness. Others will not see us in the way that we see ourselves, and what might appear fine to another, appears gruesome and unacceptable to you. These constant criticisms and judgments shift the way we view our bodies, leaving us tangled, disfigured, and forever in a state of feeling discontent. Through visual exploration of disfigurement with paint and handstitched sculpture, I hope to convey the delicate nature of our bodies and our souls, in an internal world of judgment and unfair expectations.

Maggie is a 23 year old Perth-based artist exploring themes of existentialism, community, intrapersonal and interpersonal relationships, and identity in her work. She predominately works with ink and paint, as well as some experimentation with sculpture. Her undergraduate studies in Fine Art and Psychology, as well as her current postgraduate studies in Art Therapy, have been influential in the production of her works, as she holds value for both the meaning gained through aesthetics, and the significance and reward of the art-making process itself.